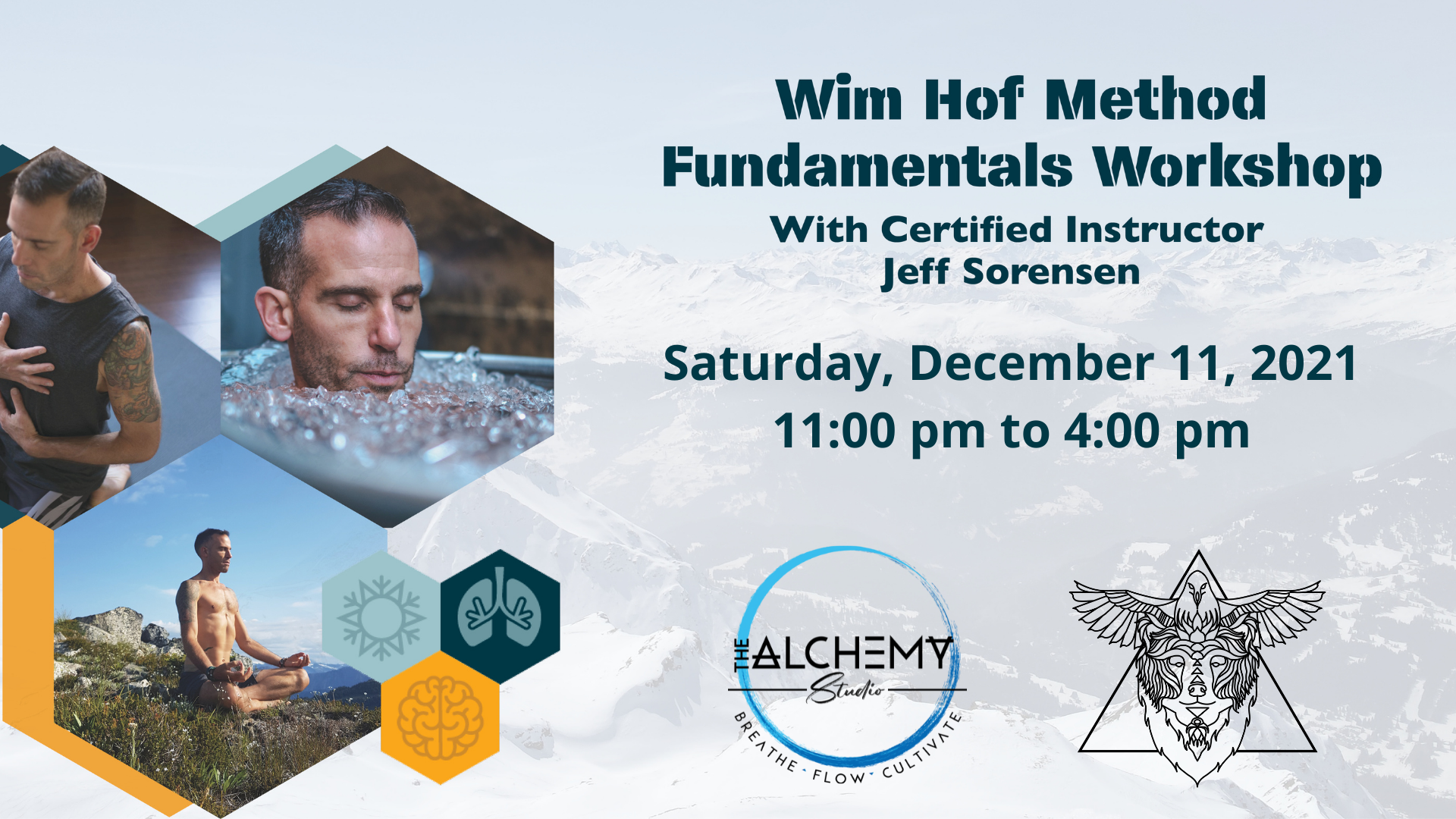 Wim Hof Fundamentals
December 11, 2021 11am - 4pm
Join Jeffrey C Sorensen and the breathARMY community as we dive into the fundamentals of the Wim Hof Method!!!
Known as "The Iceman", Wim Hof got his name by breaking a number of world records, including climbing to the top of Mount Kilimanjaro and into the Death Zone of Mount Everest in his shorts and sandals, running a half marathon above the Arctic Circle in his bare feet, a full marathon in the Namib Desert with no water and standing in a container while covered with ice cubes for more than 112 minutes.
His scientifically proven methods have been known to reduce stress and inflammation, increase energy, improve sports performance and speed up recovery, facilitate better sleep, increase focus and mental clarity, strengthen the immune system, and much more.
In this workshop you will learn the 3 pillars of the Wim Hof method: breathing, cold exposure & commitment. Jeff will help you understand the science and physiology of utilizing these three pillars to optimize both body & mind.
The event will begin with a discussion of the history and science of the method and will be followed by a guided breathing session offering you the opportunity to go deep into your physiology.
Following the breathing session, we will discuss the science of the breathing method and of cold exposure, we will prepare the ice baths together and discuss the pillar of mindset.
Movement will prepare us for the ice bath. The ice bath is optional and will be closely guided by Jeff. Following the ice bath we will warm up with more movement and discuss how to implement the method into your life.
$150/person
Jeff is the founder of breathARMY. His mission is to educate, inspire and empower others to live to their true potential. He offers tools to break through the structures that hold us back from living and expressing that potential in the world. Jeff has studied, trained and practiced with some of the world's leading breathwork and movement facilitators. Wim Hof, Patrick McKeown, Brian Mackenzie, David Shannahoff Khalsa and Jhenneviev Heartt are a few of the influences that have led to the creation of breathARMY, a unique offering of breathwork, meditation, movement and exposure to natural stressors that help us to regain our own true nature. Jeff also works as a paramedic for the British Columbia Ambulance Service and resides in Victoria, BC.
Please bring a towel, a yoga mat, a blanket or two, warm, comfortable clothes, a toque, a swim suit to change into, water bottle, flip flops, notepad.
This is a full sensory experience so please refrain from wearing any perfumes/colognes, essential oils, or scented skin care products.
Wim Hof himself will not be present at this workshop.
If you have no prior experience with cold exposure, we recommend you finish your showers cold in the days leading up to the workshop to help gain familiarity with the cold.
Out of precaution, we do not allow participation during pregnancy, or if you are epileptic. People with cardiovascular issues, or any other serious health conditions should always consult a medical professional before starting the Wim Hof Method.