200 Hr Yoga Teacher Training
August 13th to 26th, with Laura Martini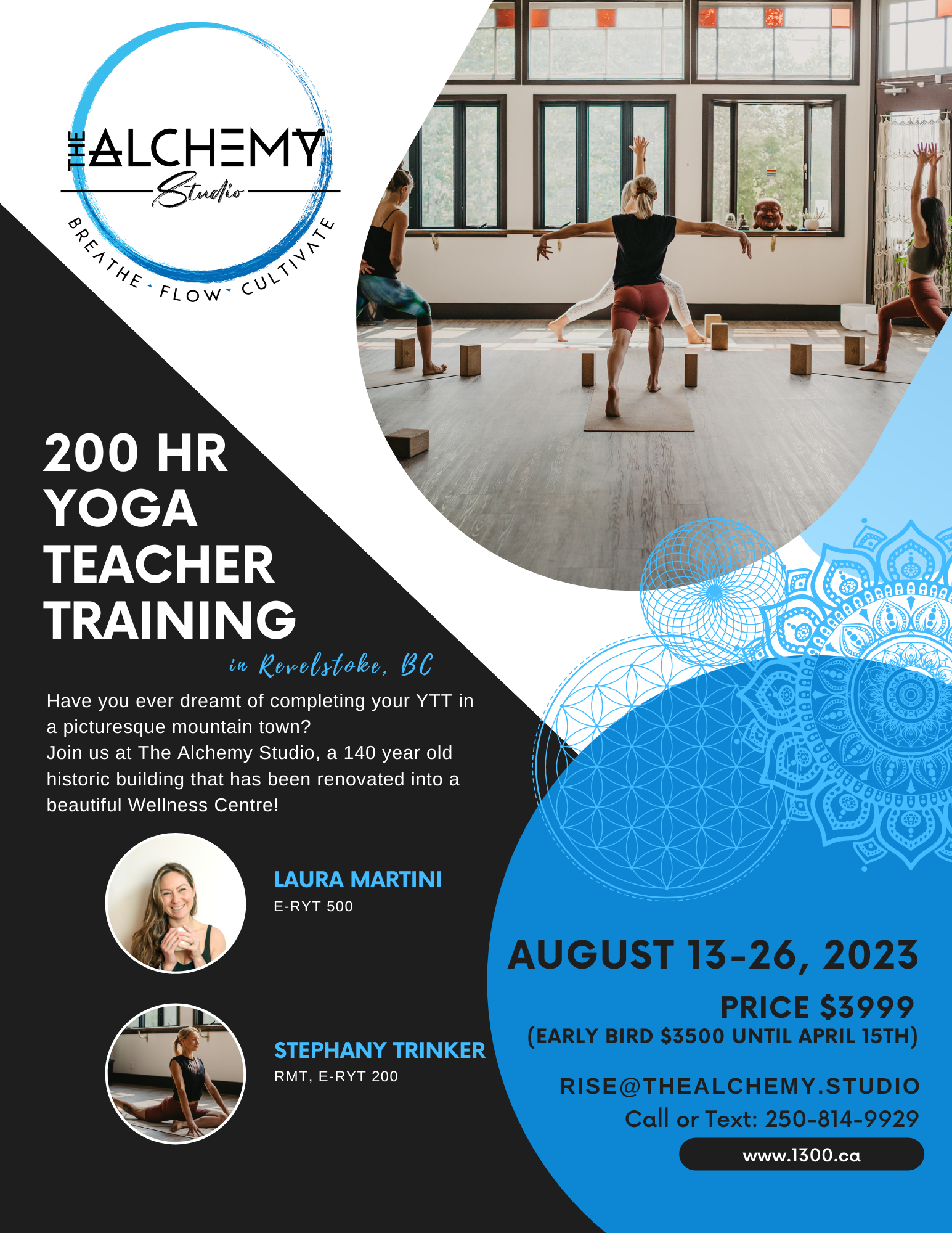 Embark on a 200hr journey that will not only deepen your yoga practice, but also transform the way you look at the asana, philosophy, and business of yoga. Included in the intensive 14-day course is instruction in anatomy, history, sequencing, and theory. Students will leave this training confident in their ability to teach yoga classes and understand the mechanics of the postures.
The focus of this training is on Vinyasa style yoga however, we will also explore Yin, Restorative and Hatha yoga so students feel comfortable teaching a variety of styles. This course is ideal for those who are looking to teach yoga as well as for those who are simply curious about expanding their knowledge around yoga.
Elements of the 200hr training:
-Overview of the ancient texts
-Deep dive into Patanjali's 8-Limbed Path
-Paul Grilley's Anatomy of Yoga video
-Guided journaling and conversation on the Yamas and Niyamas
-Morning 30 minute Meditation Practices
-1-2 Asana classes each day
-Exploration of the Koshas and Gunas
-Introduction to Ayurveda
-Yoga Sutras and Mantras
-Mudra & Bandhas
-Pranayama
-Awake documentary on Paramahansa Yogananda
-20 & 40 minute practice teaches
-In-depth instruction on Surya Namaskar A & B
-Ethics of Yoga
-Modern Business of Yoga
Required Text: Light on Yoga by B.K.S. Iyengar
Recommended Reading: Living Your Yoga by Judith Hanson Lasater, Meditations from the Mat by Rolf Gates, The Untethered Soul by Michael Singer
Anatomy portion will be taught by guest teacher, Steph Trinker, RMT
Who is Laura Martini? 😍
Laura Martini E-RYT 500 has been teaching yoga for 15 years and practicing for 17. She has completed over 1300 hours of training from Jeff and Sonya Thomlinson, Maya Yoga Teacher Training, the South Okanagan Yoga Association, Semperviva, the Vancouver School of Yoga, and the Nosara Yoga Institute. Laura specializes in leading unique yoga retreat experiences. Some of her favourite retreat hot spots include Costa Rica, Mexico, Bali, Italy, and right at home in the sunny Okanagan. In 2015, Laura became a Master Trainer and started leading 200 hour Yoga Teacher Training programs across western Canada with partners like Oranj Fitness, Bliss Yoga Lounge and Kamloops Hot Yoga. She also developed and leads Prenatal, Restorative, Yin, and Yoga Lifestyle 500 hour programs virtually and in-person.
Laura grew up on an acreage in the forest and spent much of her time walking the dirt trails with her loyal dogs. She developed a love for public speaking at a young age and as much as her dad wanted her to be a lawyer, she went a different route and made a career out of her passion for yoga. She makes her home with her hubby, two boys and weiner dog cross in Kelowna, BC.